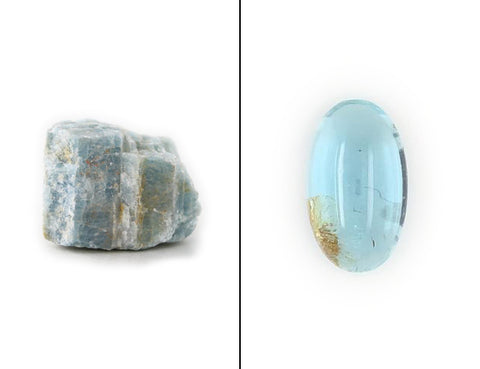 Aquamarine is a precious gem from the Beryl Family, the same family as the Emerald. This gem comes in a variety of translucent/clear to beautiful light sea blue/green colours.
Aquamarines have the attributes of good health, love, youthfulness, and hope and was traditionally used by sailors for protection.
A powerful stone to assist self-healing, with its soothing energy, it can increase your ability to handle grief, release anger and embrace change, as well as granting you the courage to go on. It gently brings rejuvination and renewal to the mind, body and spirit and makes space for peace and tranquillity.
An ideal stone for public speakers and teachers as it encourages calm, motivating and reflective communication with the added benefit of allowing women find the courage to express their thoughts and develop their intuitive abilities.
Aquamarines are usually given for a 19th Wedding Anniversary gift