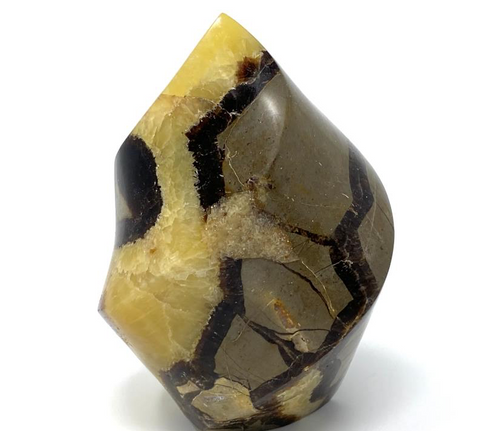 PROTECTION / CONFIDENCE / STRENGTH

Septarian is also known as Dragon Stone because of its appearance reminiscent of dragon eggs.  It is a mix of yellow Calcite, brown Aragonite, gray Limestone and sometimes clear Barite formed during volcanic eruptions 50-70 million years ago, encasing decomposing minerals and dead sea life.  
Septarian nurtures, grounds and protects the wearer, bringing about feelings of happiness and understanding. It instills feelings of positivity and joy.  This versatile stone is also a speaking stone that is said to improve communication skills of the holder, enhancing our ability to speak clearly.  
Septarian can also give balance to your body, mind, and spirit. It will ensure peace and harmony in all aspects of your being so that you will be able to face the daily challenges of life with confidence and grace and giving you strength during moments of weakness.