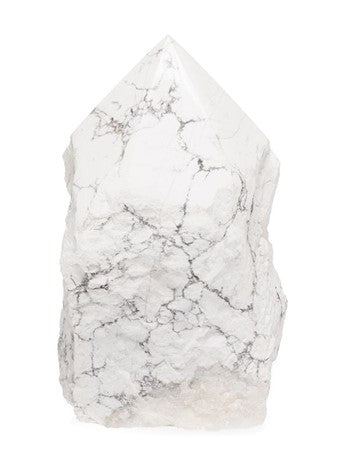 CONTENTMENT / FOCUS / ENLIGHTENMENT
White Howlite is thought to be the stone of awareness and is helpful in calming the mind and engaging our insights. This unique marble stone calms emotions and provides support in releasing attachments to old emotional pain.
It can ease stress and anxiety and give the gift of wisdom and enlightenment. A great tool for meditation, helping to focus the mind and promote serenity encouraging peace, happiness and contentment.
Howlite will calm and soothe the emotions, slow the overactive mind and help to achieve a deep and restful sleep.  It can also help to access/retrieve wisdom during the dream state and bring it back into consciousness upon waking. It will also help eliminate selfishness, thoughtlessness and self criticism.
Howlite is associated with the zodiac signs of Virgo & Gemini