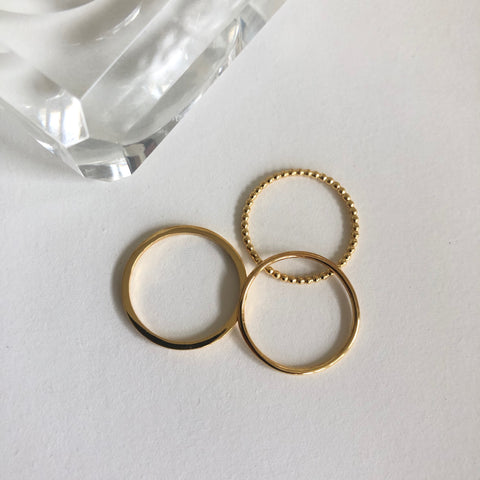 When it comes to buying rings, especially a ring for a special occasion, it is essential that you choose the right size.
We have pulled together some invaluable advice about ring sizes to help you make the perfect choice.
WHAT IS A RING SIZE?
Rings are measured according to the circumference of your finger. Rings should fit snugly, not too tight that they feel uncomfortable or not so loose that they can fall off!
TOP TIPS FOR MEASURING RING SIZE
There are other environmental and physical things that can affect ring sizes. Here are a handful of tips that might help you size it right!
The best time of day to measure your ring size is in the evening. Most people's fingers tend to be larger in the evening and slimmer in the morning
If you are choosing a ring with a deep bandwidth, it may feel tighter so you may need a slightly larger size. Rings with large stones may also 'lift up' when they are laid on their side, so you may also need a larger size.
Fingers can react to temperatures. When it is warm, they tend to swell and when it is cold, they will shrink. Avoid measuring your ring size on a particularly cold or warm day.
If you are between two sizes, it is always advisable to go up a ring size.
The dominant hand tends to be a little bigger, so if you are right-handed, for example, the third finger on your right hand may have a slightly larger ring size than your left hand.
Other factors can affect ring size include exercising, water retention, pregnancy, ageing and weight change 
HOW CAN I GUESS MY PARTNER'S RING SIZE?
If you want to surprise your partner, there are a number of ways you can find out their ring size without them knowing. The simplest way is to 'borrow' a ring that they already own and wear. If you are buying an engagement ring, this ring will need to go on the third finger of their left hand. It is unlikely they will wear a ring here, so choose one they wear on their middle finger and go down a size or two.
If you are concerned that they will notice the disappearance of the ring, then discreetly draw round the inside circumference, or press it into a bar of soap or some Play-Doh. This will create an imprint that you can take with you to a jeweller to get measured.
Other ideas include enlisting friends or family to help. Get them to go shopping with your partner to try on rings because they are far less likely to arouse suspicion.
WHAT ARE THE AVERAGE RING SIZES IN THE UK FOR MEN AND WOMEN?
When it comes to wedding or engagement rings – the third finger of the left hand – the average woman's ring size is L ½. For men, the average ring size is Q.